Meeting People Where
They Are
We believe the best way to understand our work is to see it. The projects below illustrate our collaborative efforts with three different clients to enhance access to care in the communities they serve.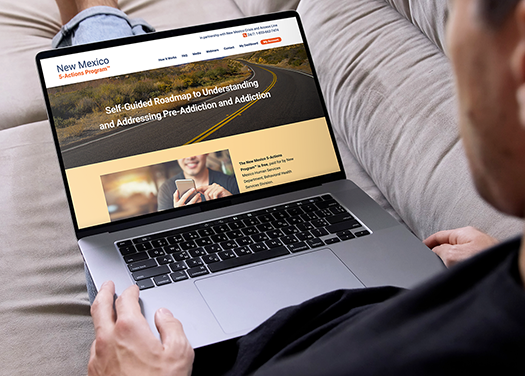 NEW MEXICO
Addiction Care Program
VISIT PROGRAM WEBSITE
New Mexico has long been challenged with some of the highest rates of addiction-related deaths in the country. Since 1990, alcohol-related deaths increased 165% while drug overdose deaths skyrocketed by 572%. As the Covid-19 pandemic spread, deaths reached an all-time high in 2020, fueled largely by fentanyl and methamphetamine. Despite the state tripling spending on addiction care over the past decade, an estimated 134,000 New Mexicans who could benefit from treatment still are not receiving it.
Digital Therapeutics Group collaborated with the Behavioral Health Services Division of New Mexico and Protocall Services that manages the statewide New Mexico Crisis and Access Line (NMCAL), to build an online addiction program called the New Mexico 5-Actions Program™. Launched in November 2020, the customized platform offers those in need of help immediate access to screening tools, a library of over 120 educational videos, 24/7 phone support from trained clinicians through NMCAL, and access to peer recovery specialists through the Peer-to-Peer Warmline.
Since launch, we have added baseline assessment tools to learn more about use of the program and outcomes. A recent analysis revealed the program is used by multiple audiences: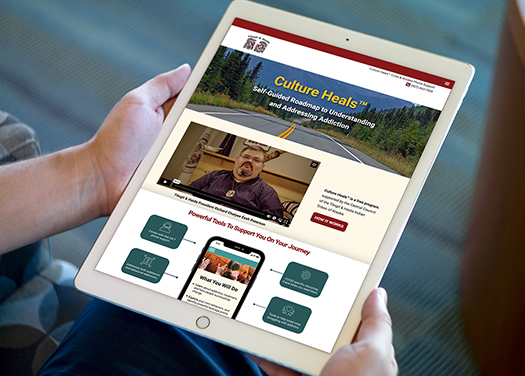 TLINGIT & HAIDA INDIAN TRIBES OF ALASKA
Behavioral Health Care Program
VISIT PROGRAM WEBSITE
Alaska is home to over 225 indigenous tribes, the Tlingit & Haida being the largest with over 35,000 people worldwide. The tribes are a sovereign entity and have a government-to-government relationship with the United States. While most reside in Alaska, a number of people live in the lower 48, challenging delivery of mental health and addiction care to those in need. Historically, Tlingit & Haida have suffered like other tribes with how best to heal generational trauma, address high rates of depression and addiction, while relying upon failing systems of care.
In response to tribal leadership's decree to meet people where they are at, DTG collaborated with the Senior Director of Behavioral Health, key staff from the Central Council, and tribal elders to develop the Culture Heals™ program which was launched in April 2022. Originally focusing on healing addiction, the platform is being expanded to address a spectrum of mental health challenges including generational trauma, depression, and anxiety. The platform fully links with the tribes newly created Community and Behavioral Services Healing Center that opened in 2022, and 24/7 phone support provided by Protocall Services.
Customization of the program included a series of interviews with President Peterson, Elders, staff from the Community & Behavioral Services Healing Center, Tribal/Wellness Courts, Public Safety, Culture Heritage & Education, and tribal members with lived experience of addiction and recovery. Their insightful stories and passion for healing contribute to the library of videos in this program designed to help users better understand that nature of life challenges and how relationships and culture are the most powerful forces for healing.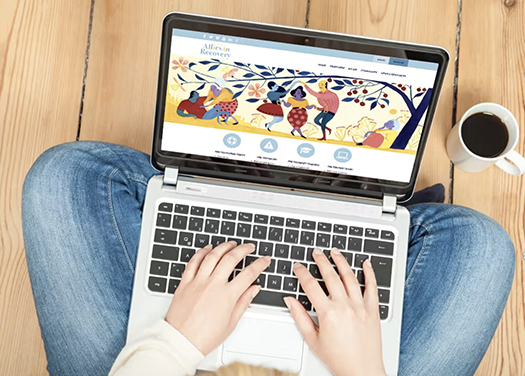 MASSACHUSETTS
Helping a Loved One with Addiction
VISIT PROGRAM WEBSITE
The State of Massachusetts was early to recognize the plight of a family member and their potential positive impact on a loved one with addiction. Prior to 2015, family members across the state had few options for help other than local support groups, and mutual aid meetings like Al-Anon. The State's Bureau of Addiction Services in 2015 partnered with Allies in Recovery to roll out AlliesinRecovery.net across the state.
Building credibility and addressing resistance by family members who struggle with the shame of stigma has been key to Allies success in Massachusetts. In the seven years since going live across the state, Massachusetts has registered 3,240 Massachusetts residents. A mature social media campaign now largely drives prospects to the site at a rate of 1-2 new registrants per day. Massachusetts residents visit the site on average 7 times in 90 days. The cost to serve one family in CRAFT is down to $162 and drops as membership increases, since the platform is scalable. 
As the numbers and survey results below indicate, an internet-based, self-directed delivery of the CRAFT method improves outcomes (self-reported by family), approaching that of the in-person research, but at a fraction of the cost. Please take just a moment to click here and scan the over 40 pages of comments gathered from members over these seven years.
Ready to build your digital care hub?